You Are Browsing 'Change Communication' Category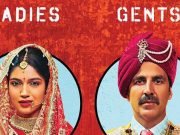 Akshay Kumar is fast emerging as a very unlikely bearer of varied and content-driven Hindi cinema. His latest film - despite its shortcomings - could end up as a case study on development communication, or Communication for Development (C4D), in the Indian context. 
The principal facilitator of good change communication is the ability of the team behind it to understand how people (employees, partners, clients, consumers) perceive and respond to change. Our collective experiences over the years tell us that most people are reluctant for change because they see change as a force that disrupts their cosy corner of the world.