You Are Browsing 'Health Communication' Category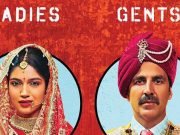 Official Poster: Toilet: Ek Prem Katha Akshay Kumar is fast emerging as a very unlikely bearer of varied and content-driven Hindi cinema. Derided by the reigning Hindi cinema establishment and its audience bank as 'Bharat Kumar 2.0' for his off-screen nationalistic messages and works, the prolific actor's latest film – despite its shortcomings – could end up as a case study on development...
Advertisement of an Ayurvedic Weight Gaining Product A cursory study of health communication would reveal that when it comes to catching eyeballs, the catchy promotions of, for example, private label herbal supplements beat hollow the rather ritualistic promotions of healthcare initiatives by our government. While the difference in the target audience indeed contributes to the difference, the key, I'm...