You Are Browsing 'Health Communication' Category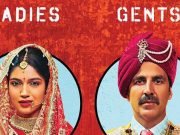 Akshay Kumar is fast emerging as a very unlikely bearer of varied and content-driven Hindi cinema. His latest film - despite its shortcomings - could end up as a case study on development communication, or Communication for Development (C4D), in the Indian context. 
A cursory study of health communication would tell one that the catchy promotions of private chic gymnasiums beat hollow the rather ritualistic promotions of healthcare initiatives by our government. While the difference in the target audience - and market - indeed contributes to the difference, the key, I'm afraid, remains the passion behind and incentive for the campaigns.